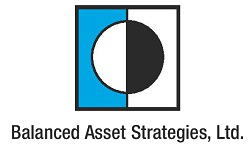 At Balanced Asset Strategies, your interests always come first. As an independent Registered Investment Advisor, we are free from conflicts of interest and work for you. Together we will create a financial plan and build an investment strategy implementing both your personal and economic objectives. What is most important to you? How do we get there?
Our investment philosophy is growing and protecting your investments by avoiding catastrophic losses through a highly diversified portfolio and the tactical use of portfolio insurance. While you cannot manage market returns, you can manage your risk and exposure.
We have the necessary experience to navigate through all types of market conditions and more importantly to facilitate meaningful progress toward both your life style and financial goals.
---
The beginning of the year is a great time to organize records and discard old documents to make room for new ones.

Consider these tips to prepare for the possibility that you might retire earlier than planned.

Liability insurance can help offset unforeseen legal costs that could consume a business's profits.

Settling an estate can be a difficult and time-consuming job as there are some specific duties that often fall on an executor.